Services
What do we have to offer?
---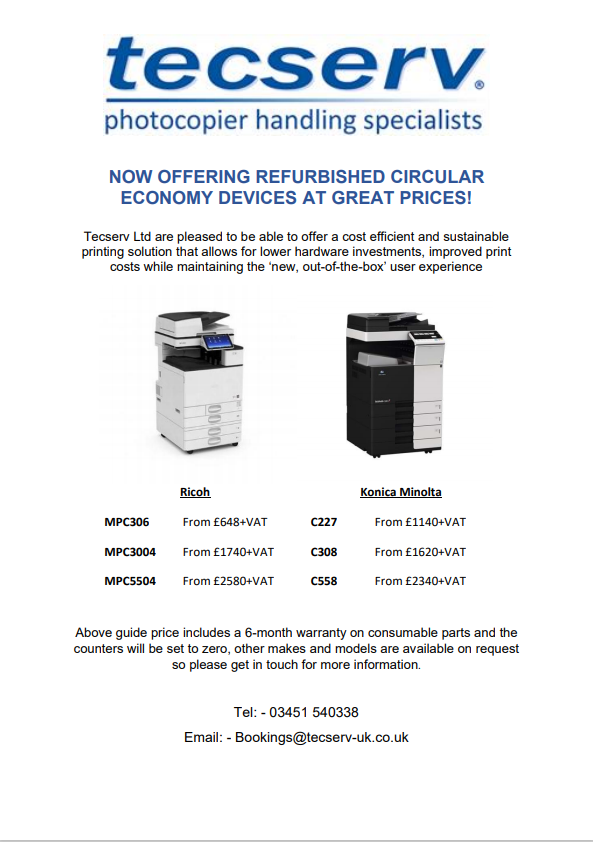 Tecserv are pleased to be able to offer a cost efficient and sustainable printing solution that allows for lower hardware investments, improved print costs while maintaining the 'new, out-of-the-box' user experience

With a range of market leading brands available, all circular economy devices supplied by Tecserv have been hand selected and pre qualified by a technical team before the remanufacturing and refurb process at the factory begins.

All devices have had all parts that are related to functionality and print quality checked, and if they are above 20% wear, they are replaced using OEM parts. The remanufacturing process is completed to strict ISO Standards – 9001, 14001, 27001.

Once a device has been remanufactured, they are certified, counters set to 0 and device re-boxed and sealed, to give the user a 'brand new' experience. All devices are also supplied with a 6 month warranty.

Here at Tecserv, we understand the importance of ensuring we improve and protect our environment by coming up with new and inventive ways to achieve this, while also offering the highest quality product. We achieve this objective with this service offering, as we are making use of the circular economy by using resources in a sustainable way and not generating more damaging waste.

If you are interested in the circular economy devices we have to offer, please do not hesitate to contact us via our email bookings@tecserv-uk.co.uk or call us at 03451 540 338.